Why should one purchase an Aqua Bare off grid water system? You can bring the container anywhere that you can go! From at home on your countertop to your office at work, to the park where you play sports all the way to being on a road trip with friends. Anywhere you name, our systems are good to go for the occasion. But there is much more to our water filtration system.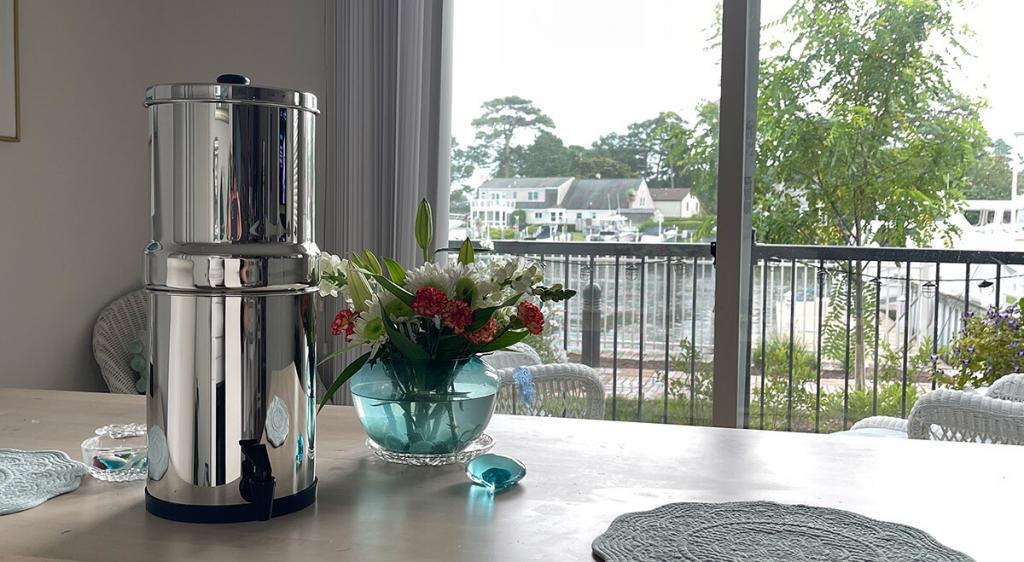 Our water filtration systems are portable and can be brought just about anywhere you can think of. That is, depending on the size you so choose. Each of our systems was designed to be adaptable, portable, and compact to a multitude of situations. The container is compact because the top and bottom chambers nest comfortably into each other while still allowing its components and filters to be stored within the chambers.
Compact & Adaptable
Each of our stainless-steel systems allows for more than 2 Black Aqua Bare BB9-2 purification elements to be used in the top chamber. Some of our systems can hold up to 8 filters. This adaptability provides for a larger rate of water purification and a faster purification rate when put together with more elements. Our containers are easy to configure and assemble in minutes. 
Aesthetic Appeal
The overall look of the containers is very clean and elegant. They are made of highly-polished 304 AISI Highly Polished stainless steel. People are always talking about how eye-catching and crisp the look is. Families and friends find themselves using the canister as a conversation piece. It can either blend in and match up with your kitchen or it can completely stand put. Either or, both are good.
Long-Term Cost Savings
Although the original price for our water filter containers can be on the expensive side, they have a long life span and are worth the investment. Aqua Bare off grid water systems hold more filtered water and cost less than other countertop gravity water purification systems. Many other filtration systems fall short in their contaminant lists and lifespans when compared to ours. Other systems only remove a handful of common contaminants. Our system removes a wide range of toxic substances from water. Aqua Bare filters have a lifespan of 6,000 gallons, which equals 48,000 16oz water bottles! When you fully analyze the other systems on lifespan, appeal, and taste, the savings do add up to be well worth the purchase! 
Trusted Water Quality & Experience
More clean drinking water for less! Let's face it, tap water in the US is not safe to drink. We're committed to providing Americans with clean, pure water without overflowing landfills with plastic bottles. Aqua Bare is committed to solving 2 critical problems. Those problems are providing safe, clean drinking water & drastically reducing the plastic bottles going into landfills. Our gravity-based water systems remove 99% of contaminants. It reduces bacteria, viruses, chlorine, fluoride, heavy metals, sediments, large particles, taste, odor, and other contaminants. Our filters are ANSI/NSF certified. Aqua Bare filter uses natural coconut activated carbon block and food-grade fluoride reducers.
When you are deciding which gravity water purification system to choose from you can't go wrong with Aqua Bare. We are compact, cost less than other systems, and you can trust that your water will be of quality!