Aqua Bare BB9-2 Black Carbon and PF-2 White Arsenic/Fluoride filters were tested by an independent lab and were shown to reduce or remove up to 99% of the following contaminants.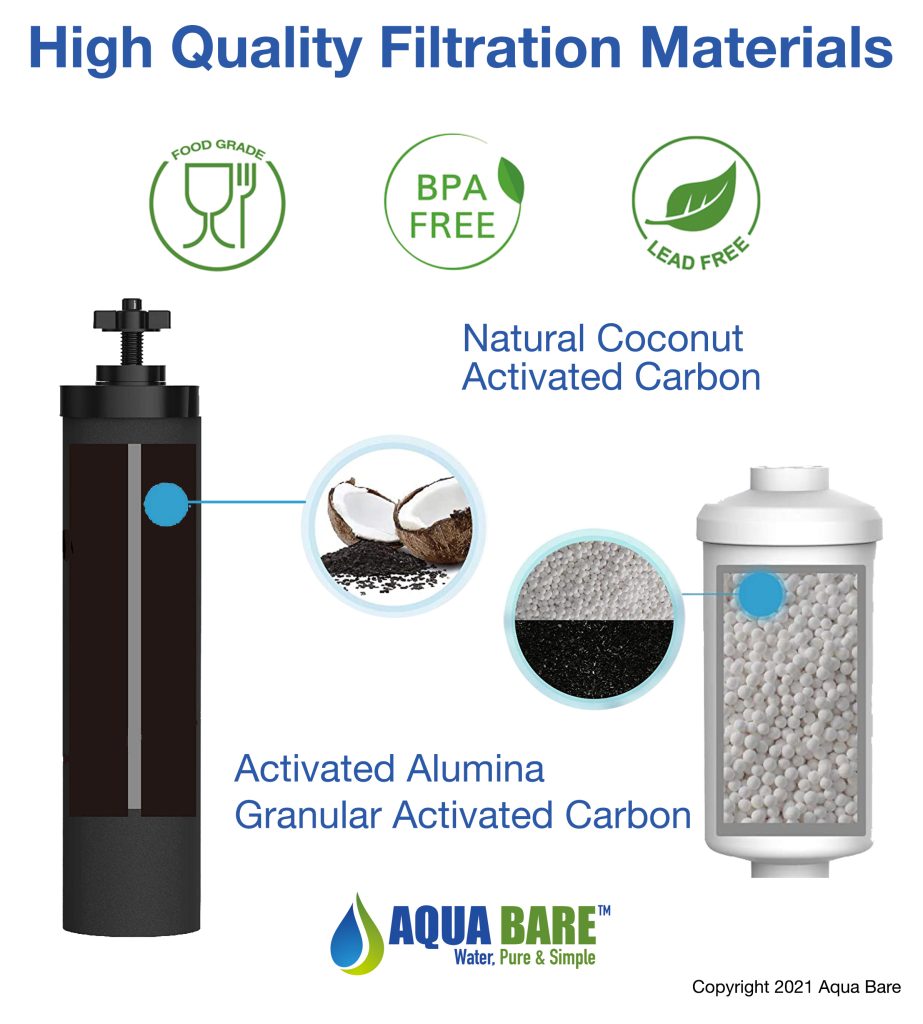 VIRUSES

PATHOGENIC BACTERIA (AND SURROGATES)
Bacillus atrophaeus (Anthrax surrogate); Raoultella terrigena (Pathogenic Bacteria Surrogate); Salmonella Enterica.

PFOAS
Perfluorooctanoic Acid (PFOA), Perfluorooctyl Sulfonate (PFOS) and Other Perfluorinated Chemicals (PFCs)
TRIHALOMETHANES
Bromodichloromethane ; Bromoform ; Chloroform ; Dibromochloromethane.

INORGANIC MINERALS
Chloramine; Chloride; Chlorine Residual; Free Chlorine

HEAVY METALS (HIGH & LOW pH LEVELS)
Aluminum; Antimony; Barium; Beryllium; Bismuth; Cadmium; Cobalt; Chromium; Chromium 6; Copper; Iron; Lead; Mercury; Molybdenum; Nickel; Vanadium; Zinc.

PHARMACEUTICAL DRUGS CONTAMINANTS
Acetaminophen; Caffeine; Carbamazepine; Ciprofloxacin HCl; Erythromycin USP; Sulfamethoxazole; Trimethoprim; Bisphenol A; Diclofenac Sodium; 4-para-Nonylphenol; 4-tert-Octylphenol; Primidone; Progestrone; Gemfibrozil; Ibuprofen; Naproxen Sodium; Triclosan.
ALSO REMOVES OR REDUCES:
Arsenic; Escherichia coli (E. Coli); Fluorene; Manganese; MBAS; Nitrites; PCB's; Petroleum Products (Gasoline, Diesel, Crude Oil, Kerosene, Mineral Spirits, Refined Oil); Selenium; Thallium; Rust; Silt; Sediment; Turbidity; Foul Tastes and Odors.

* For Heavy Metals, Inorganic Minerals, Pesticides, Petroleum, Pharmaceuticals, Semi-VOC's, THM's, VOC's; reduction exceeded lab detection limits.
Pesticides & (Semi) Volatile Organic Compounds (VOCs)
Removed to Below Laboratory Detectable Limits
Tetrachloroethane
Trichlorotrifluoroethane
Dichloroethane (DCA)
Dichloroethylene (DCE)
Dichloropropene
Trichlorobenzene
Trichloropropane
Trimethylbenzene
Dibromo-3-chloropropane (DBCP)
Dibromoethane
Dichloro-1,1,2-trifluoroethane (CFC 123a)
Dichlorobenzene
Dichlorobenzene-d4
Dichloroethane
Dichloropropane
Trimethylbenzene
Dichlorobenzene
Dichloropropene
Dichlorobenzene
Dichloropropane
T
TP (Silvex)
D
DB
Butanone (MEK)
Chlorotoluene
Hexanone
Methyl-2-propanol
Dichlorobenzoic Acid
Hydroxycarbofuran
Bromofluorobenzene
Chlorotoluene
Isopropyltoluene
Methyl-2-pentanone
Nitrophenol
Hydroxydicamba
Acetone
Acenaphthylene
Acifluorfen
Alachlor
Aldicarb
Aldicarb Sulfone
Aldicarb Sulfoxide
Aldrin
alpha-Chlorodane
Ametryn
Anthracene
Aroclor
Atraton
Atrazine
Baygon
Bentazon
Benzene
Bromacil
Bromoacetic Acid
Bromobenzene
Bromochloromethane
Bromodichloromethane
Bromomethane
Bromoform
Butachlor
Butylate
Butylbenzylphthalate
Carbaryl
Carbofuran
Carbon Tetrachloride
Carboxin
Chloramben
Chlordane
Chloroacetic Acid
Chlorobenzene
Chlorobenzilate
Chloroethane
Chloroform
Chloromethane
Chlorpropham
Chlorprophane
Dichloroethylene
Dichloropropene
Nonachlor
Cycloate
Dacthal Acid
Dalapon
Diazinona
Dibromoacetic Acid
Dibromochloropropane (DBCP)
Dibromomethane
Dicamba
Dichloroacetic Acid
Dichlorodifluoromethane
Dichloromethane
Dichlorvos
Diclorprop
DieldrinDiethylphthalate
Dinoseb
Diphenamid
Disulfoton
Disulfoton Sulfone
Disulfoton Sulfoxidea
Endrin
EPTC
Ethoprop
Ethylbenzene
Ethylene Dibromide (EDB)
Fenamiphos
Fenarimol
Fluorobenzene
Fluridone
gamma-Chlorodane
Glyphosate
Halo acidic Acids (HAA5)
Heptachlor
Heptachlor Epoxide
Hexachlorobenzene
Hexachlorobutadiene (CCC)
Hexachlorocyclopentadiene
HexazinoneIsophorone
Isopropylbenzene (Cumene)
Lindane (Gamma-BHC)
Merphos
Methiocarb
Methomyl
Methoxychlor
Methylcyclohexane-methane
Methyl Paraoxon
Methyl tert-Butyl Ether (MTBE)
Metolachlor
Metribuzin
Mevinphos
MGK 264
Molinate
Monochlorobenzene
m-Xylenes
Naphthalene
Napropamide
n-Butylbenzene
Norflurazon
n-Propylbenzene
Oxamyl
o-Xylene
Pebulate
Pentachlorophenol
Picloram
Prometon
Prometryn
Pronamidea
Propazine
p-Xylenes
sec-Butylbenzene
Simazine
Simetryn
Stirofos
Styrene
Tebuthiuron
Terbacil
Terbufos
Terbutryn
tert-Butylbenzene
Tetrachloroethylene (PCE)
Tetrahydrofuran (THF)
Thiobencarb
Toluene
Toxaphene
Dichloroethylene
Dichloropropene
trans-Nonachlor
Triademefon
Tribromoacetic Acid
Trichloroacetic Acid
Trichloroethene (TCE)
Trichloroethylene
Trichlorofluoromethane (CFC 11)
Tricyclazole
Trifuralin
Vernolate
Vinyl Chloride
and many more*